The canoe in the pic came from the Polley lake campsite.

Quesnel lake is a 100 km long interior BC lake known as a trophy rainbow lake. High season may well start with the August holiday weekend when the first of hundreds of thousands of spawning salmon return back to this watershed. Up the lake at Elyssia resort all the best cabins were rented. Tragically on this holiday Monday in the early hours of the morning, Imperial Metals huge tailings pond collapsed. Seventeen million cubic meters of water, more then the the equivalent of 2,000 Olympic-sized swimming pools, along with 8 million cubic meters of toxic effluent roared down Hazeltine creek. What may have saved the lives of campers asleep on Polly lake just a 1/2 km away was that the tidal wave of slurry made a sharp right hand turn away from Polley lake sparing it of most of the effulent. Even so runoff from the collapse raised the level of Polley lake 5 ft. Even from 10 km away Likely residents could hear the roaring of effluent which continued to scour the creek bed down to Quensel lake. The 4 ft wide creek was now a 150 ft wide torrent of frothing brown liquid. This continued for hours into the later part of the morning. The force of that much liquid snapped large trees in half and blew out two bridges. Communication of the disaster happened by word of mouth and did not happen in an orderly way. Employees on site first phoning relatives. Some town residents only found out about the disaster through the media.

When the disaster occurred we had just returned from BC and couldn't initially make sense of the news reports about Mount Polley lake near Likely BC. As we saw the news reports and referenced that information to what we knew of that area we were stunned to learn the lake we had just fished was now contaminated. Even so I probably would have put this in the memory banks except that the very people who locals were to trust were not believable. How could that much pollution not show up on the Ministry of the Environment's tests for drinking water quality? Welcome to Mine friendly BC.



Three days after the disaster B.C. Premier Christy Clark met with Likely residents concerned for their water safety.

She said the chief medical health officer would be making the decisions about whether the water is safe for residents to drink..."Everybody across British Columbia, our hearts are with you. This is a pristine resource for everybody, but for nobody more than you. And I know it's just been a terrible, terrible heartache. We are going to be with you, shoulder to shoulder, to do everything we can to return it to the real pristine beauty we all know this lake is for our province, because this is just such an incredible, incredible asset and so important to all of you." Clark shared the initial water quality test results which showed no contamination.



Four days after the disaster, B.C. Environment Minister Mary Polak announced the second set of water-quality testing results. The samples were taken on the 2nd day after the disaster at five different locations along the Quesnel River, to determine potential impacts on drinking water quality and aquatic life.

Jennifer McGuire, also with the ministry, said there was still no expectation that aquatic life would be impacted by cadmium levels. "We do feel comfortable in the context of risk for human health rescinding the order (in those areas)," said Corneil. "It meets the Canadian drinking water standards, as well as standards for potable drinking water in multiple systems." "Analysis of these samples indicate that none of the chemical and physical parameter concentrations exceeded B.C. or Health Canada drinking water guidelines," said a memo that was distributed with the results.

All tests showed little to no contamination. At the time I wrote, "I am at a loss about the testing. Results for the 5th are in. The (second day) results still looks relatively really good. They have taken the drinking ban off for Likely....How do you have that much sediment flow into a lake and not see it in any form of the testing? Things like turbidity or suspended solids". That's right, the MoE removed the drinking ban for the town of Likely 4 days after the disaster.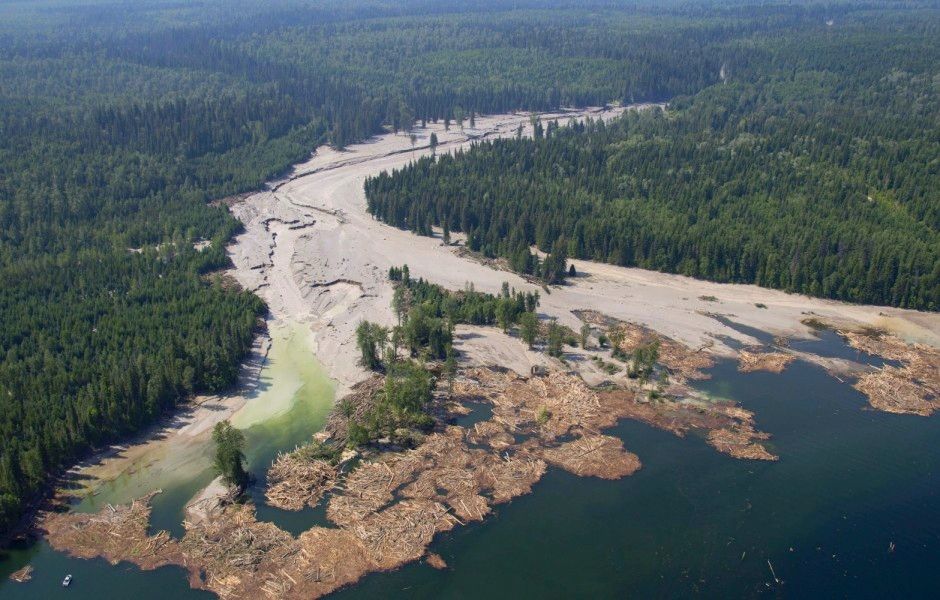 I decided to check for myself. Looking at the MoE's results the original two days of tests occurred approximately 7 km or more away from where the slurry entered the water and only 6 samples were taken. All initially reported testing was done near the surface. More startling to discover a week later was that the MoE tested near Hazeltine creek at different depth levels during the first two days but chose not to release these results! Those results especially below the water surface exceeded provincial standards. One can not help but be highly cynical that how the government handled this was no mistake. If you don't test where the containment will most likely be is it any surprise that the results would show little to worry about. Ten days later a lot of the contaminated water would have flowed down the Fraser river or would be settling on the bottom of the lake. Out of sight, out of mind, out of the news cycle. The claim that the drinking water was safe was as bogus as the initial claim that a majority of the contaminants had been contained by a log jam at the mouth of the Hazeltine creek. Less then two weeks after the disaster the MoE stateed,

After today, the province will no longer be providing daily updates on the Mount Polley tailings pond breach in Likely. The people and businesses in the area are "on the road to recovery."

We were to also learn that the spill was 70% bigger then first estimated. Cloudy plumes began surfacing on the lake. Further testing results began showing elevated level of contaminants. A water ban came back into effect and then residents of Likely were told once again not to drink cloudy water. Some slurry particles are no bigger then a micron. Bacteria is about to micron's wide. The naked eye can't see anything under 40 microns wide yet cloudy water was the sole criteria to determine if water was safe to drink?


The Engineer of Record for the Mount Polley Mine, Knight Piésold, describes itself as the "former engineer of record of the tailings storage facility at Mount Polley," and said that it informed Imperial that it would no longer continue in that role as of February 2011. Knight Piésold commented that during the time it acted as engineer of record, the tailings storage facility at Mount Polley "operated safely and as it was designed," and was subjected to multiple third-party reviews. The firm said that since Feb. 10, 2011, it "has not had any responsibility or knowledge of any aspects of the design, modifications or performance monitoring of the tailings storage facility at Mount Polley. The original engineering done by Knight Piésold Ltd. accommodated a significantly lower water volume than the tailings storage facility reportedly held at the time of the breach. Significant engineering and design changes were made subsequent to our involvement, such that the tailings storage facility can no longer be considered a Knight Piésold Ltd. design.
Upon completing all assignments as the engineer of record in 2010, Knight Piésold wrote to Mount Polley Mining Corp. and to the Government of British Columbia's Chief Inspector of Mines and stated that 'the embankments and the overall tailings impoundment are getting large and it is extremely important that they be monitored, constructed and operated properly to prevent problems in the future.' A formal handover of design, construction and monitoring responsibilities was conducted on March 8, 2011, when AMEC Earth and Environmental was acknowledged as the new engineer of record for all future work at the Mount Polley tailings storage facility." And the final washing of the hands: "Knight Piésold Ltd. is not familiar with, and therefore cannot comment on, the details of the incident, or on the design, construction, operations, water-management practices or any other aspects of the Mount Polley tailings storage facility."
The University of Victoria's Environmental Law Centre warned in 2012 that environmental assessment certificates for mines issued by government are often "vague and unenforceable." It said that by 2008 the number of mine inspections had fallen to half what they were in 2001. Small wonder — Ministry of Environment staff shrank by 25 per cent. The chief mining inspector said he had insufficient staff to complete the annual mine monitoring reports required. "This ramshackle enforcement regime is not good enough for an industry that can create environmental and financial catastrophes," the study said.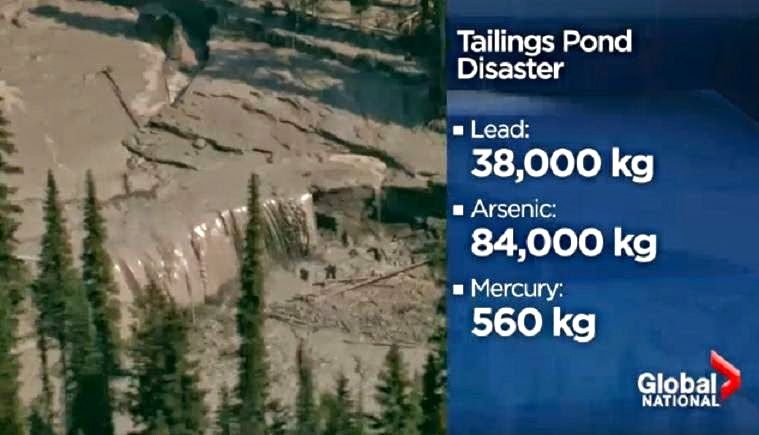 The president of Imperial Metals, Brian Kynoch stated

the water is close to drinking water but the silt is the issue. A summary of material dumped into the tailings pond last year was filed with Environment Canada. It said there was 326 tonnes of nickel, over 400,000 kilograms of arsenic, 177,000 kilograms of lead and 18,400 tonnes of copper and its compounds placed in the pond last year. Mercury has not been detected in the water and arsenic levels are 1/5th of that of drinking water. According to Kynoch the water is not toxic to rainbow trout. The water use ban was apparently more to "Err on the side of caution" than a requirement..."Yes, I would drink the water, but it's of no consequence," the company head replied. "I would drink the water once the solids come out."



In a news release the MoE stated,

"Often areas where mines are located have elevated levels of metals, meaning naturally occurring metal concentrations are often much greater in this region than elsewhere in the province. "Scientific evidence tells us that the metals are not likely to readily move from the sediment into the water, and are therefore not likely to present a risk to future water quality," it said. Leachability tests, to be conducted in the next few days, should confirm this. Interior Health continues to assess sample results provided by the ministry for any potential human health risks. These results provide further reassurance to the decision to partially rescind the "Do Not Use" to the impact zone involving Polley Lake, Hazeltine Creek and a small part of Quesnel Lake".





With Imperial Metals and the tailings pond, what was put in tailings pond is the rock that has been ground down to get at the metals. The left over material is finer then sand and is mixed with the water and other chemicals used in the extraction process. When they talk about toxins with the pond these toxins are not in liquid form but bound to tiny granules. Leaching happens when the acidity within the environment strips toxins away from the granules. No one really knows about the degree of potential health impacts of such large scale contamination, and if any of the contaminants will leach into the water over longer periods of time or be absorbed by other methods into the food chain. Lake Quesnel has become one giant science experiment.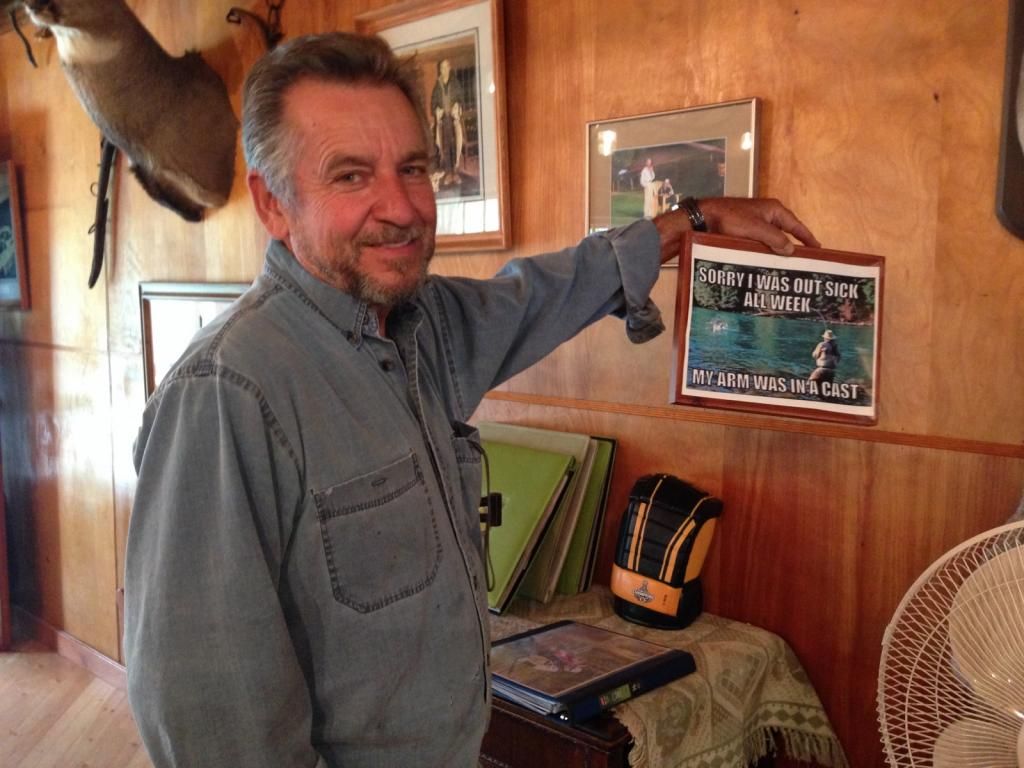 Skeed Borkowski runs the Northern Lights fly fishing lodge on lake Quesnel. He comments,

they killed my beautiful lake. "They can't take those toxins out," he said. "They'll dissipate. They'll disappear. But I will never, ever, ever drink out of this lake again. You couldn't convince me. But the reality of it is, we don't even know what's going to happen to this. And the unknown is what'll keep people from coming here. If you had the choice would you want to take your kids swimming here?"

. The attached link below contains an interview.
http://www.desmog.ca/2014/08/26/last-cast-northern-lights-lodge-dims-early-after-mount-polley-mine-spill

https://www.youtube.com/watch?v=0iXuqA8zKK0


After complaining in writing to the Ministry of Energy and Mines about safety conditions at the mine, Chambers says he received a phone call "saying my services were no longer needed there." Larry Chambers warned Imperial Metals that its tailings pond was bound to fail – and he was fired for it, the Likely. He and his wife, Lawna Bourassa-Keuster, have now lost their home on once-beautiful Quensnel Lake – too afraid to drink the cloudy and discoloured water, which they brought with them to Vancouver in a jar. "Christy Clark did come to Likely and at that time, she informed us that she would make sure that Quesnel Lake would be brought back to its pristine state," said Bourassa-Keuster. "We haven't seen or heard from her since. Chambers described instances of being bullied by supervisors at the mine for insisting on safety standards that were not being properly implemented.


[url]
https://www.youtube.com/watch?v=tmrHtuNTVRw
[/url]
Gerald MacBurney, a former tailings foreman quit this past June, saying one of the main reasons was the stress of the job. "I fought those guys for two years," he says, "the management at Polley, to get rock like they were supposed to, and build the dam properly. Doing my job, and then they would not do the stuff that you wanted, you know? I just couldn't take it anymore." "They needed to put in five million tonnes [of rock] around the dam, because they added, once they went to a bigger mine life, they added five times the amount of water," adds MacBurney. "That dam was never designed to hold five times that amount of water." "Five million tonnes, well we got maybe a couple hundred thousand. And that's it, in two years. I'd had enough." He says they had a breach at the tailings pond in May and the company "just patched things together." "[They] carried on going up instead of wider and doing the proper way of doing it," says MacBurney.

MacBurney says management is to blame. "They'd send their reports to Vancouver, management at Polley, and all they cared about was making sure there was enough waste rock moved and enough ore moved, they didn't care about tailings. Tailings was like nothing, nothing to them." He says the government is just as much to blame for what happened. "They were there in May because we had the breach, they call it high water, I know what a breach is and I know what high water is. It came over the till. That's an automatic breach."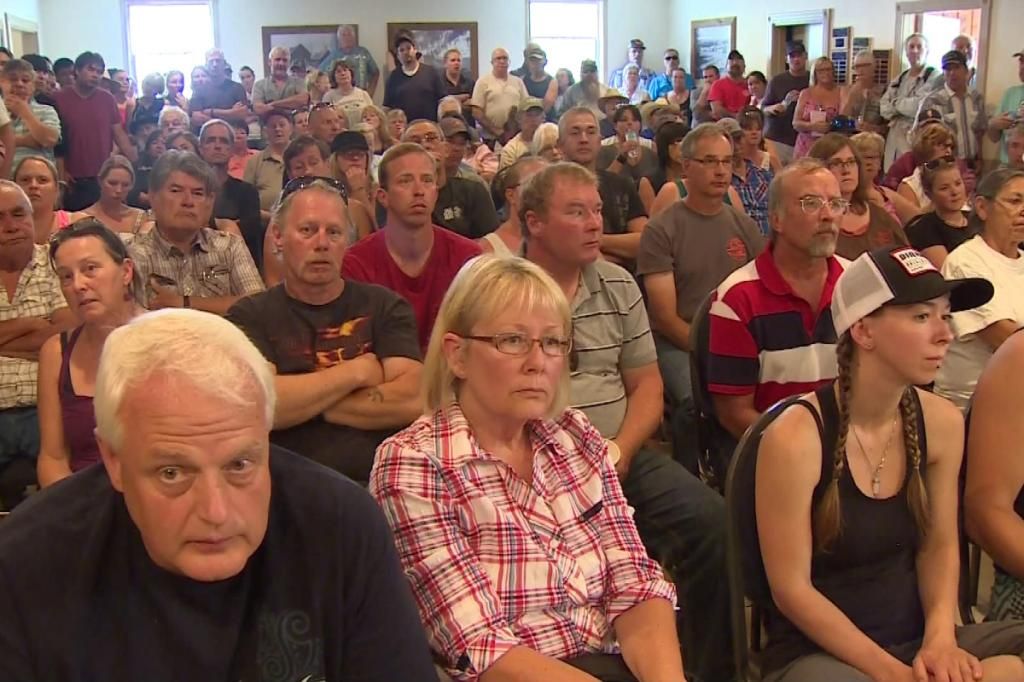 Sensing looming layoffs at Mt. Polley mine, Williams Lake City Council is asking the provincial government to allow the mine to begin operating again. Williams Lake City Councillor Surinderpal Rathor stated, All 360 employees, most of whom live in Williams Lake and surrounding areas, are still on the job performing mitigation work in the wake of the breach August 4th. However city councillor Surinderpal Rathor says there's a fear layoffs could come before Christmas. "I've spoken to the mine's manager and he says they're bleeding money faster than anything. He doesn't think they'll have enough work for all the employees there. And if no measures are taken they might have to lay off a large percentage of the staff."
Mount Polley began handing out layoff notices to 36 of its employees on Remembrance Day, effectively reducing its workforce by 11 per cent. At first everyone's in shock, "said Paul French, United Steelworkers Local 1425 president. "Then comes the fear of them losing their job. Now we're in the reality stage of 'OK now what do I do?'"
"I choose not to believe the government because I don't think that Imperial (Metals) is doing any cleanup. They're doing nothing," Carla Zanotto said Monday (sept 9th).
The breach released 17 million cubic metres of water and more than seven million cubic metres of slurry — much more than the original estimate when the spill occurred Aug. 4.
She said the clean up so far seems to involve pumping the slurry — the ground rock particle left over after metals are removed — from Polley Lake near the mine downstream into much larger Quesnel Lake.
She has a three-year-old and six-year-old and they draw their drinking water at the cottage from Quesnel Lake. The potentially toxic slurry should be removed from the watershed altogether, she said.
Brian Kynoch, president of Imperial Metals Corp., told a crowd of about 200 people gathered in the Likely, B.C., community centre that the water from the tailings pond is almost drinking water quality... RELATIVELY BENIGN AND HE WOULD DRINK IT. "The solids at Mount Polley are relatively benign — low mercury, very low arsenic, low metal content," he added. His Minister of Mining stated, "I'm not an engineer, I'm not a geotechnical person and I'm not a chemist, but we all know the company has been saying throughout this that they're pretty confident about the quality of the water in their tailings pond and they're also pretty confident about what is in their tailings. Today at 9:00, they posted on their company website what's in their tailings and what it looks like to me – as a non-technical person – is there is a really good chance we're going to get lucky here.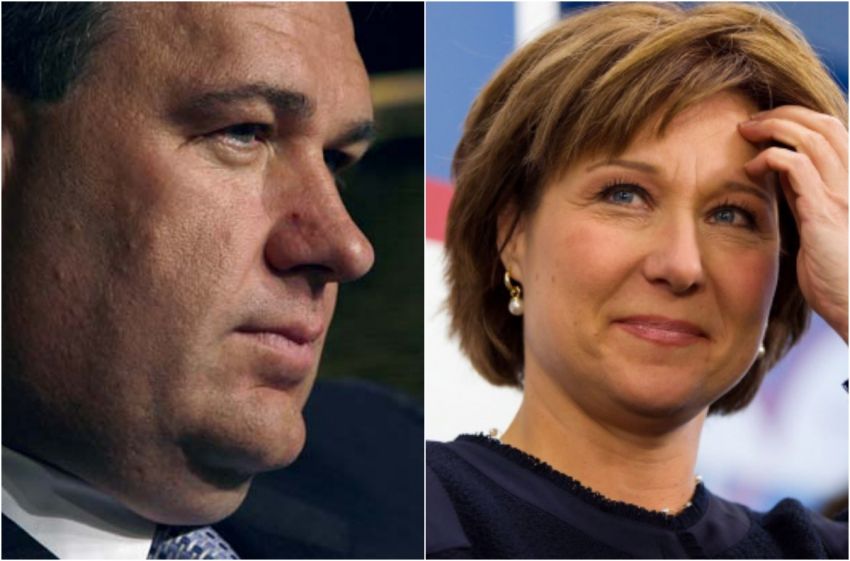 N. Murray Edwards, the controlling shareholder of Imperial Metals Corp. which owns the Mount Polley mine, helped organize a $1-million private fundraiser in Calgary last year to bolster B.C. Premier Christy Clark's re-election bid. Edwards, an oilpatch billionaire and chairman of Canadian Natural Resources, was among several Alberta power-brokers involved in the fundraiser, reportedly held to back the continuation of Clark's "free-enterprise government." According to polls at the time, the B.C. New Democrats were poised to win the May 13 election.

The private affair came just three months after Clark, in an address to the University of Calgary's school of public policy in October 2012, hailed Edwards as a "great Calgarian" and credited him with helping to boost B.C.'s economic development. "Mining is an area where we have set some pretty ambitious targets. We're planning to build 17 new and expanded mines by 2015. Mining revenues have grown by 20 per cent to $8.6 billion since we introduced our Jobs Plan last year, and we've done it with the highest standard of sustainable mining in the world," Clark said in the October 2012 address.

"A significant part of our progress in British Columbia comes from people like Murray Edwards, it comes from investors and people who are located right here in Calgary."Edwards, Canada's 18th richest person with a net worth of about $2.2 billion according to Forbes, is linked to six corporations that have donated a total of $436,227 in campaign contributions to the B.C. Liberal party over the past nine years, according to Elections B.C.

As if self monitoring and self compliance didn't help lead up to this disaster, now the MoE believes Imperial Metals is beyond reproach and has decided to leave all future long term testing of water up to IM.
From the MoE's Question and Answer sheet:"12. What long-term water quality monitoring will be put in place?
The Mount Polley Mining Corp is currently developing a water quality monitoring plan. The Ministry of Environment will Review and provide feedback to ensure the plan meets provincial requirements to protect human health and the environment. The submitted plan will be shared with First Nations and IHA to ensure the plan addresses other parties' expectations.The plan will be posted publicly on the ministry's dedicated Mt.Polley website when it is completed and satisfies Ministry of Environment requirements".



Analysts say cleanup costs for Imperial Metals' Mount Polley tailings disaster could cost anywhere from $50 million to $500 million, but the security bonds available today to help cover that are now a fraction of that. Documents from the Ministry of Energy and Mines on July 25, 2013 suggest that Mount Polley Mining Corporation (owned by Imperial Metals) was expected to pay security bonds of $38 million by 2023, and that it had deposited $14.5 million as of March 2014.





Company president, Brian Kynoch has indicated that the company's insurance costs may not be enough to cover the spill costs (CBC News, 08/14). Other news reports claim that Imperial Metals has only $15 million in property and business interruption insurance coverage and $10 million in third-party liability insurance. There is no mention of environmental liability insurance.





The University of Victoria's Environmental Law Centre warned in 2012 that environmental assessment certificates for mines issued by government are often "vague and unenforceable." It said that by 2008 the number of mine inspections had fallen to half what they were in 2001. Small wonder — Ministry of Environment staff shrank by 25 per cent. The chief mining inspector said he had insufficient staff to complete the annual mine monitoring reports required. "This ramshackle enforcement regime is not good enough for an industry that can create environmental and financial catastrophes," the study said.





B.C. Mines Minister Bill Bennett says the Mount Polley tailings dam collapse is not an environmental disaster, equating it to the "thousands" of avalanches that happen annually in B.C. Bennett, pointing to initial positive water readings, asserted his contention will be proven in the next several weeks.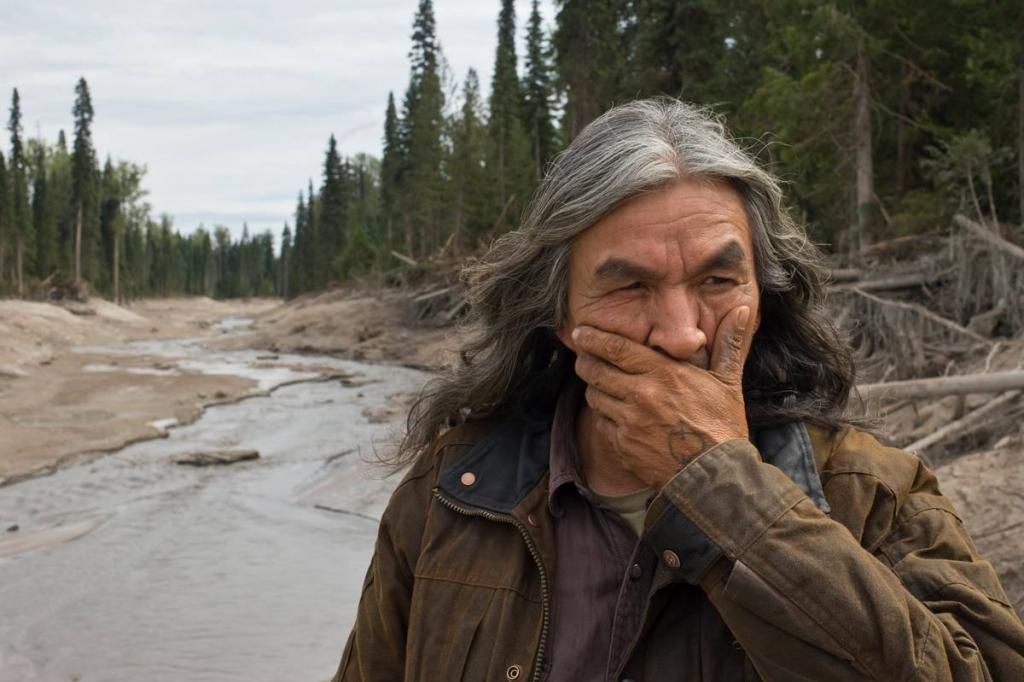 A crew of natives went to Hazeltine creek to check things out for themselves. The site was deeply disturbing to them and they reported noxious fumes which made it difficult to breath. Overall it has been the natives who have kept the issue of the disaster in the spotlight. Many of the miners and citizens of Likely want to move on. That might not be possible just yet.



The tailing dam failure on Aug. 4 released millions of cubic metres of water and tailings containing potentially toxic metals into Polley Lake adjacent to the mine, Hazeltine Creek and Quesnel Lake. Residents in Likely, on the shores of Quesnel River near the mine site, have raised concerns about the cloud of sediment that appears and disappears from time to time, described as a "funny" green colour. The B.C. government and Imperial Metals have acknowledged the plume, but UNBC's research is the first to characterize the size of the sediment cloud. "In a matter of a few hours, the watershed was affected at an extent never before seen, and that will possibly last for decades," said UNBC professor Phil Owens. The plume of sediment, typically located below 25 metres, is moving both down the lake towards the town of Likely and up the lake past Cariboo Island, UNBC's research shows.




Imperial Metals does not have a cleanup plan for the lake, or know whether it will be necessary. To determine what needs to be done in Quesnel Lake, the company is awaiting results from its consultant Tetra Tech EBA, which has a 37-foot research boat on the lake carrying out bottom sampling and water testing, Robertson said. Tetra Tech EBA is part of a coterie of consultants — including SNC Lavalin and Golder Associates — hired by Imperial Metals to work on a cleanup plan.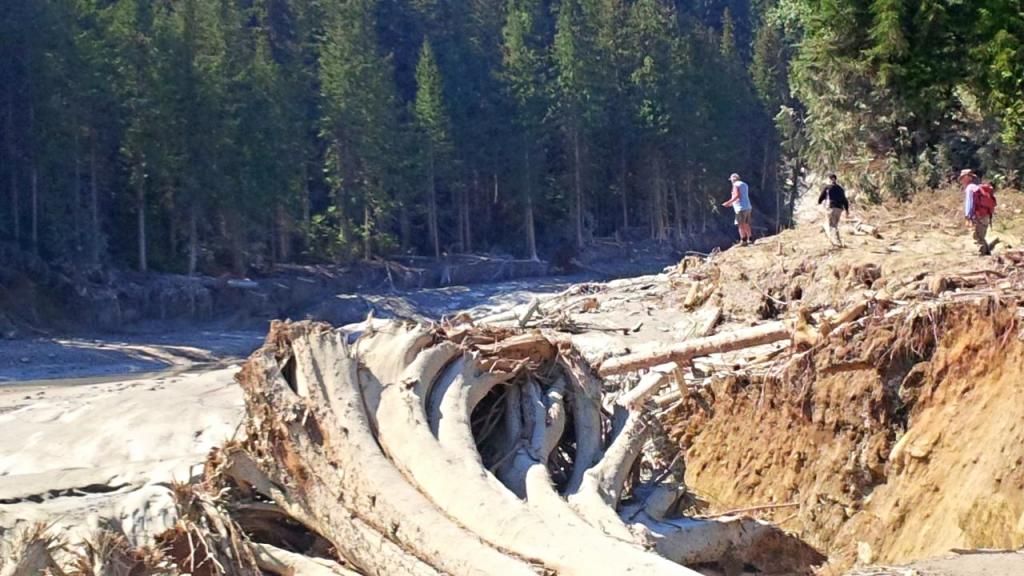 The B.C. Ministry of the Environment has ordered the Mount Polley mine northeast of Williams Lake, B.C. to stop discharging effluent into Hazeltine Creek. The provincial order comes only a day after (Sept 8th) residents said they witnessed slurry being pumped from Polley Lake near the mine downstream into Hazeltine Creek and Quesnel Lake. In an emailed statement, the environment ministry says it also witnessed the tailings pond effluent being discharged into Hazeltine Creek during an inspection Sept. 4. The province says the mine has not discharged any more slurry into the creek since then and it has ordered the company not to do so in the future.



Energy Minister Bill Bennett said he has authorized the company to start repairs so that the dam can hold back water resulting from the snow and ice thaw next spring. As much as two to three million cubic meters of water is expected, according to the company. "It doesn't authorize them to reopen or begin to put tailings in that pond," said Bennett. "That obviously would not happen until we have our investigation reports back. The government has three investigative reports due into the collapse, which could be done as early as January.


Imperial Metals started rehabilitation and also guarded the disaster zone based on the local state of emergency. Many were outraged that they couldn't visit the disaster area. On Dec 4th the Cariboo Regional District (CRD) has rescinded the State of Local Emergency declared in Electoral Area F, the Likely Community Area.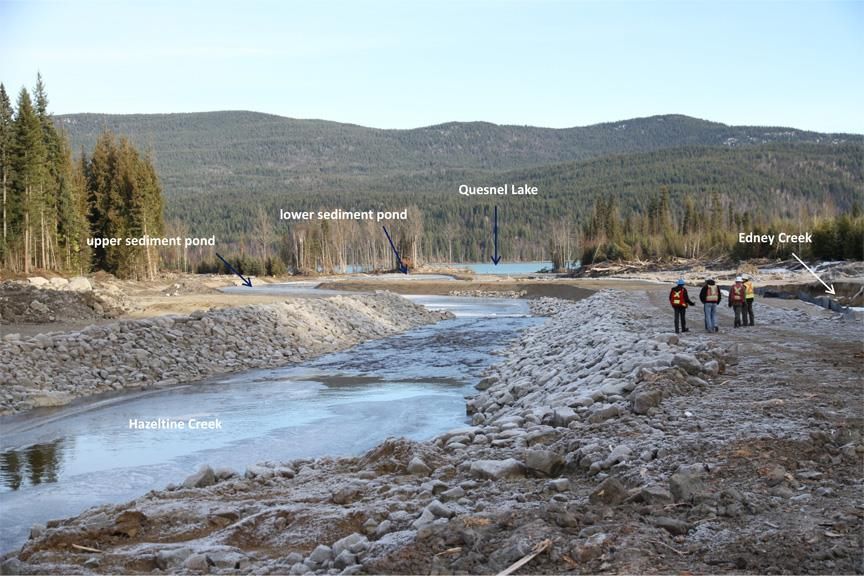 Imperial Metals

does not believe it will make sense to remove sediment and tailings

from the creek, an expensive proposition that the company says could create more damage. The company's belief is predicated on its position that the tailings are relatively benign and will not produce acid that would release heavy metals into the environment. While the rock that has been milled in its mine does contain acid-generating pyrite, the acid-generating potential is neutralized by the significant amount of carbonate in the rock, says Robertson. "It's the same thing when you think of your stomach acid and Tums. Well, we don't have one Tums, we have a whole box of Tums — so it's a very, very neutralizing environment," he said.

MPMC ordered 900 25kg bags of fast germinating grasses, which have been applied to exposed areas in an effort to provide vegetative cover. A specialty equipped helicopter was brought to the site to help with the task of seeding exposed areas. MPMC has seeded the entire TSF, which was previously covered by water, the exposed areas downstream of Polley Lake and throughout the Hazeltine Creek channel, except the canyon where the seeds would not be expected to germinate. While the fall season is approaching, we expect to get germination soon. The seeds have already started to germinated. We will monitor the seeded areas follow the progress of the vegetative cover.


A pic near Likely around xmas, since turnover the water has been cloudy.



Premier Christy Clark: "Things looked bleak in Likely when the Mount Polley tailing dam breached. This was a tragedy – one I am determined to make sure is never repeated. But the response, bringing together my team with the Cariboo Regional District, local First Nations, and residents, showed what we can do when we work together to get a community back on its feet."Williams Lake has been through some ups and downs. But the work ethic, perseverance and spirit of its people will be on display to the world again when the second season of Timber Kings hits HGTV, reaching millions of viewers. And odds are good Stampede will set another attendance record next summer."



An expert panel examining the disaster received

a 47-page UVic law centre report — entitled Not an Act of God which raises concerns about the role of government oversight and the B.C. government's reliance on professionals who are employed by the mine to conduct inspections. The report, authored by UVic law students, said it was important the panel "recognize that engineering design, mining operations and regulatory oversight issues are not merely questions of physical causation but occur within a legal and regulatory context that govern behaviour." The report said a key problem is the B.C. government relies on the expertise and diligence of professional engineers to inspect and report, but gives them no power or authority to require that the mining operation make changes. The report said the problem is compounded by a lack of timely followup by government. It pointed to the lack of action on fixing dam instrumentation and problems with dam construction at Mount Polley raised in inspection reports between 2008 and 2010. "There needs to be a legally effective mechanism for these recommendations to be followed; failure to do so should have a legal consequence and should be considered non-compliance," said the report. The UVic law centre recommended following the example of oversight at contaminated sights, where a roster of qualified people appointed by government, and at arm's length of the companies, conduct inspections and reports.